Natural Language Processing (NLP,auf Deutsch auch als Computerlinguistik bezeichnet) gilt als ein Teilbereich des Machine Learning und der Sprachwissenschaften.
Beim NLP geht es vom Prinzip um das Extrahieren und Verarbeiten von Informationen, die in den natürlichen Sprachen enthalten sind. Im Rahmen von NLP wird die natürliche Sprache durch den Rechner in Zahlenabfolgen umgewandelt. Diese Zahlenabfolgen kann wiederum der Rechner benutzen, um Rückschlüsse auf unsere Welt zu ziehen. Kurz gesagt erlaubt NLP dem Computer unsere Sprache in ihren verschiedenen Formen zu verarbeiten. 
Eine ausführlichere Definition von NLP wurde auf dem Data Science Blog von Christopher Kipp vorgenommen. 
In diesem Beitrag werde ich dagegen einen Überblick über die spezifischen Schritte im NLP als Prozess darstellen, denn NLP erfolgt in mehreren Phasen, die aufeinander Folgen und zum Teil als Kreislauf verstanden werden können. In ihren Grundlagen ähneln sich diese Phasen bei jeder NLP-Anwendung, sei es Chatbot Erstellung oder Sentiment Analyse.
1. Datenreinigung / Normalisierung 
In dieser Phase werden die rohen Sprachdaten aus ihrem ursprünglichen Format entnommen, sodass am Ende nur reine Textdaten ohne Format erhalten bleiben. 
Beispielsweise können die Textdaten für unsere Analyse aus Webseiten stammen und nach ihrer Erhebung in HTML Code eingebettet sein.
Das Bild zeigt eine Beispielseite. Der Text hier ist noch in einen HTML Kontext eingebettet. Der erste Schritt muss daher sein, den Text von den diversen HTML-Tags zu bereinigen.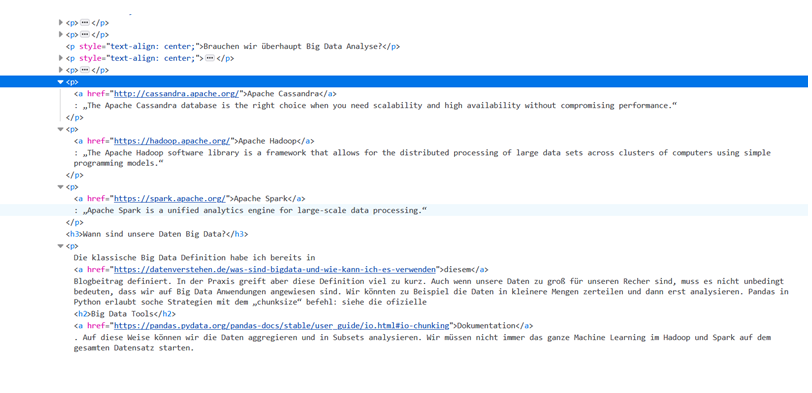 2. Tokenisierung und Normalisierung (Tokenizing and Normalizing) 
Nach dem ersten Schritt steht als Ergebnis idealerweise reiner Text da, der aber auch Sprachelemente wie Punkte, Kommata sowie Groß- und Kleinschreibung beinhaltet. 
Hier kommt der nächste Schritt ins Spiel – die Entfernung der Interpunktion vom Text. Der Text wird auf diese Weise auf seine Wort-Bestandteile (sog. Tokens) reduziert. 
Zusätzlich zu diesem Schritt kann auch Groß- und Kleinschreibung entfernt werden (Normalisierung). Dies spart vor allem die Rechenkapazität. 
So wird aus folgendem Abschnitt:
Auf diese Weise können wir die Daten aggregieren und in Subsets analysieren. Wir müssen nicht immer das ganze Machine Learning in Hadoop und Spark auf dem gesamten Datensatz starten.
folgender Text 
auf diese weise können wir die daten aggregieren und in subsets analysieren wir müssen nicht immer das ganze machine learning in hadoop und spark auf dem gesamten datensatz starten
3. Füllwörterentfernung / Stop words removal 
Im nächsten Schritt entfernen wir die sogenannten Füllwörter wie "und", "sowie", "etc.". In den entsprechenden Python Bibliotheken sind die gängigen Füllwörter bereits gespeichert und können leicht entfernt werden. Trotzdem ist hier Vorsicht geboten. Die Bedeutung der Füllwörter in einer Sprache verändert sich je nach Kontext. Aus diesem Grund ist dieser Schritt optional und die zu entfernenden Füllwörter müssen kontextabhängig ausgewählt werden. 
Nach diesem Schritt bleibt dann in unserem Beispiel folgender Text erhalten: 
können daten aggregieren subsets analysieren müssen nicht immer machine learning hadoop spark datensatz starten
4. Pats of speech (POS) 
Als weiterer Schritt können die Wörter mit ihrer korrekten Wortart markiert werden. Der Rechner markiert sie entsprechend als Verben, Nomen, Adjektive etc. Dieser Schritt könnte für manche Fälle der Grundformreduktion/Lemmatization notwendig sein (dazu sogleich unten).
5. Stemming und Lemmatization/Grundformreduktion
In weiteren Schritten kann weiter das sogenannte Stemming und Lemmatization folgen. Vom Prinzip werden hier die einzelnen Wörter in ihre Grundform bzw. Wörterbuchform gebracht. 
Im Fall von Stemming werden die Wörter am Ende einfach abgeschnitten und auf den Wortstamm reduziert. So wäre zum Beispiel das Verb "gehen", "geht" auf die Form "geh" reduziert. 
Im Fall der Lemmatization bzw. Grundformreduktion werden die Wörter in ihre ursprüngliche Wörterbuchform gebracht: das Verb "geht" wäre dann ins "gehen" transformiert. 
Parts of Speech, Stemming als auch Lemmatising sind vorteilhaft für die Komplexitätsreduktion. Sie führen deswegen zu mehr Effizienz und schnellerer Anwendbarkeit. Dies geschieht allerdings auf Kosten der Präzision. Die auf diese Weise erstellten Listen können dann im Fall einer Suchmaschine weniger relevante Ergebnisse liefern.
Nachfolgende Schritte beim NLP transformieren den Text in mathematische Zahlenfolgen, die der Rechner verstehen kann. Wie wir in diesem Schritt vorgehen, hängt stark davon ab, was das eigentliche Ziel des Projektes sei. Es gibt ein breites Angebot an Python Paketen, die die Zahlenbildung je nach Projektziel unterschiedlich gestalten
6a. Bag of Words Methoden in Python (https://en.wikipedia.org/wiki/Bag-of-words_model)
Zu den Bag of Words Methoden in Python gehört das sogenannte TF-IDF Vectorizer. Die Transformationsmethode mit dem TF-IDF eignet sich beispielsweise zum Bau eines Spamdetektors, da der TF-IDF Vectorizer die Wörter im Kontext des Gesamtdokumentes betrachtet.
6b. Word Embeddings Methoden in Python: Word2Vec, GloVe (https://en.wikipedia.org/wiki/Word_embedding)
Wie der Name bereits sagt transformiert Word2Vec die einzelnen Wörter zu Vektoren (Zahlenfolgen). Dabei werden ähnliche Wörter zu ähnlichen Vektoren transformiert. Die Methoden aus der Word Embeddings Kiste eignen sich zum Beispiel besser, um einen Chatbot zu erstellen. 
Im letzten Schritt des NLP können wir die so prozessierte Sprache in die gängigen Machine Learning Modelle einspeisen. Das Beste an den oben erwähnten NLP Techniken ist die Transformation der Sprache in Zahlensequenzen, die durch jeden ML Algorithmus analysiert werden können. Die weitere Vorgehensweise hängt hier nur noch vom Ziel des Projektes ab. 
Dies ist ein Überblick über die notwendigen (und optionalen) Schritte in einem NLP Verfahren. Natürlich hängt die Anwendung vom jeweiligen Use Case ab. Die hier beschriebenen NLP Phasen nehmen viele Ungenauigkeiten in Kauf, wie zum Beispiel die Reduzierung der Wörter auf Wortstämmen bzw. den Verzicht auf Großschreibung. Bei der Umsetzung in der Praxis müssen immer Kosten und Nutzen abgewogen werden und das Verfahren dem besonderen Fall angepasst werden. 
Quellen:
Mandy Gu

: "Spam or Ham: Introduction to Natural Language Processing Part 2" https://towardsdatascience.com/spam-or-ham-introduction-to-natural-language-processing-part-2-a0093185aebd

Christopher D. Manning, Prabhakar Raghavan & Hinrich Schütze

: "Introduction to Information Retrieval", Cambridge University Press, https://nlp.stanford.edu/IR-book/

Hobson Lane, Cole Howard, Hannes Max Hapke

: "Natural Language Processing in Action. Understanding, analyzing, and generating text with Python." Manning Shelter Island
http://datasciencehack.com/wp-content/uploads/2020/01/banner.png
312
820
Aleksandra Klofat
https://www.data-science-blog.com/wp-content/uploads/2016/09/data-science-blog-logo.png
Aleksandra Klofat
2020-01-24 09:45:25
2020-01-25 17:12:14
Wie funktioniert Natural Language Processing in der Praxis? Ein Überblick