Interview with Dr. Eva-Marie Müller-Stüler from KPMG about how to use Decision Science to forecast customer behaviour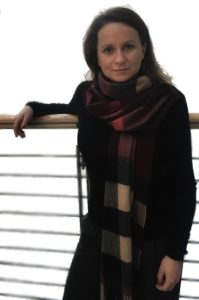 Dr. Eva-Marie Müller-Stüler is Chief Data Scientist and Associate Director in Decision Science at KPMG LLP in London. She graduated as a mathematician at the Technical University of Munich with a year abroad in Tokyo, and completed her Doctorate at the Philipp University in Marburg.

Read this article in German:
"Interview – Mit Data Science Kundenverhalten vorhersagen "
Data Science Blog: Ms Dr. Müller-Stüler, which path led you to the top of Analytics for KPMG?
I always enjoyed analytical questions, and have a great interest in people and finance. For me, understanding how people work and make decisions is incredibly exciting. In my Master's and my PhD theses I had to analyse large amounts of data and had to program various algorithms. Now, combining a solid mathematical education with specific industry and business knowledge enables me to understand my clients' businesses and to develop methods that disrupt the market and uncover new business strategies.
Data Science Blog: What kind of analytical solutions do you offer your clients? What benefits do you generate for them?
Our team focuses on Behaviour and Customer Science under a mantra and mission: "We understand human behaviour and we change it". We look at all the data artefacts a person (for example, the customer or the employee) leaves behind and try to solve the question of how to change their behaviour or to predict future behaviour. With advanced analytics and data science we develop "always-on" forecasting models, which enable our clients to act in advance. This could be forecasting customer demand at a particular location, how it can be improved or influenced in the desired direction, or which kind of promotions work best for which customer. Also the challenge of predicting where, and with what product mix, a new store should be opened can be solved much more accurately with Predictive Analytics than by conventional methods.
http://datasciencehack.com/wp-content/uploads/2016/12/predict-customer-behaviour-with-data-science-interview.png
300
800
Benjamin Aunkofer
https://www.data-science-blog.com/wp-content/uploads/2016/09/data-science-blog-logo.png
Benjamin Aunkofer
2016-12-12 20:33:46
2017-12-04 11:08:17
Interview - Using Decision Science to forecast customer behaviour