Virtual Edition, May 11-12, 2020
The premier conference covering the
commercial deployment of deep learning
Deep Learning is no longer the cool new discipline. Instead it has become another tool in the toolbox of the data scientist – but a very important one! Without RNN, CNN etc. many applications that make our daily life better or help us to improve our business wouldn't be possible. Take for exam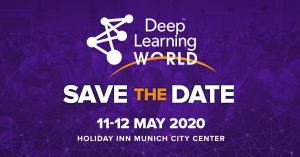 ple the German Federal State NRW: they are using neural networks to detect child pornography. Other organizations use it to detect cancer, translate text or inspect machines. It's also important to understand how Deep Learning sits alongside traditional machine learning methods. As an expert you should know when and how to apply different methods for different applications. At the Deep Learning World conference, you will learn from other practitioners why they decided for a deep, transfer or reinforcement learning approach, what the analytical and technical but also organisational and economic challenges were and how they solved them. Take this opportunity and visit the two-day event to broaden your knowledge, deepen your understanding and discuss your questions with other Deep Learning experts – see you virtually in May 2020!
Why should you participate?
We will provide a live-streamed virtual version of deep learning on 11-12 May, 2020: you will be able to attend sessions and to interact and connect with the speakers and fellow members of the data science community including sponsors and exhibitors from your home or your office.
What about the workshops?
The workshops will also be held virtually on the planned date:
13 May, 2020.
Don't have a ticket yet?
It's not too late to join the data science community.
Register by 10 May to receive access to the livestream and recordings.
We're looking forward to see you – virtually!
This year the Deep Learning World runs alongside with the Predictive Analytics World for Healthcare and Predictive Analytics World for Industry 4.0.
http://datasciencehack.com/wp-content/uploads/2020/02/Early-Bird-Ticket.png
312
820
Editorial Staff
https://www.data-science-blog.com/wp-content/uploads/2016/09/data-science-blog-logo.png
Editorial Staff
2020-04-26 09:17:46
2020-04-23 09:19:17
Deep Learning World - Virtual Edition 2020!