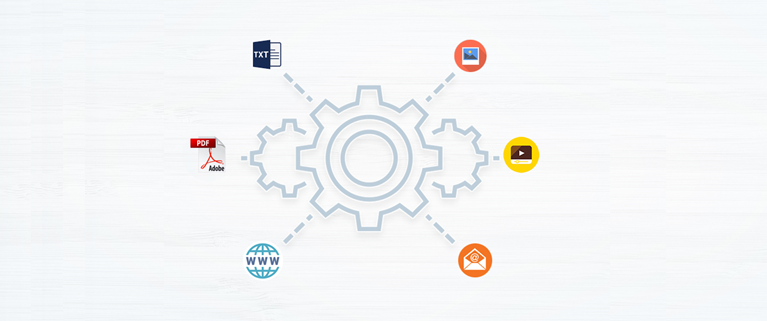 In an ideal world, all enterprise data is structured – classified neatly into columns, rows, and tables, easily integrated and shared across the organization.
The reality is far from it! Datamation estimates that unstructured data accounts for more than 80% of enterprise data, and it is growing at a rate of 55 – 65 percent annually. This includes information stored in images, emails, spreadsheets, etc., that cannot fit into databases.
Therefore, it becomes imperative for a data-driven organization to leverage their non-traditional information assets to derive business value. We have outlined a simple 3-step process that can help organizations integrate unstructured sources into their data eco-system:
1. Determine the Challenge
The primary step is narrowing down the challenges you want to solve through the unstructured data flowing in and out of your organization. Financial organizations, for instance, use call reports, sales notes, or other text documents to get real-time insights from the data and make decisions based on the trends. Marketers make use of social media data to evaluate their customers' needs and shape their marketing strategy.
Figuring out which process your organization is trying to optimize through unstructured data can help you reach your goal faster.
2. Map Out the Unstructured Data Sources Within the Enterprise
An actionable plan starts with identifying the range of data sources that are essential to creating a truly integrated environment. This enables organizations to align the sources with business objectives and streamline their data initiatives.
Deciding which data should be extracted, analyzed, and stored should be a primary concern in this regard. Even if you can ingest data from any source, it doesn't mean that you should.
Collecting a large volume of unstructured data is not enough to generate insights. It needs to be properly organized and validated for quality before integration. Full, incremental, online, and offline extraction methods are generally used to mine valuable information from unstructured data sources.
3. Transform Unstructured Assets into Decision-Ready Insights
Now that you have all the puzzle pieces, the next step is to create a complete picture. This may require making changes in your organization's infrastructure to derive meaning from your unstructured assets and get a 360-degree business view.
IDC recommends creating a company culture that promotes the collection, use, and sharing of both unstructured and structured business assets. Therefore, finding an enterprise-grade integration solution that offers enhanced connectivity to a range of data sources, ideally structured, unstructured, and semi-structured, can help organizations generate the most value out of their data assets.
Automation is another feature that can help speed up integration processes, minimize error probability, and generate time-and-cost savings. Features like job scheduling, auto-mapping, and workflow automation can optimize the process of extracting information from XML, JSON, Excel or audio files, and storing it into a relational database or generating insights.
The push to become a data-forward organization has enterprises re-evaluating the way to leverage unstructured data assets for decision-making. With an actionable plan in place to integrate these sources with the rest of the data, organizations can take advantage of the opportunities offered by analytics and stand out from the competition.
http://datasciencehack.com/wp-content/uploads/2020/02/integrate-data-header.png
351
767
Tehreem Naeem
https://www.data-science-blog.com/wp-content/uploads/2016/09/data-science-blog-logo.png
Tehreem Naeem
2020-03-05 11:01:55
2020-03-05 21:55:52
Integrate Unstructured Data into Your Enterprise to Drive Actionable Insights