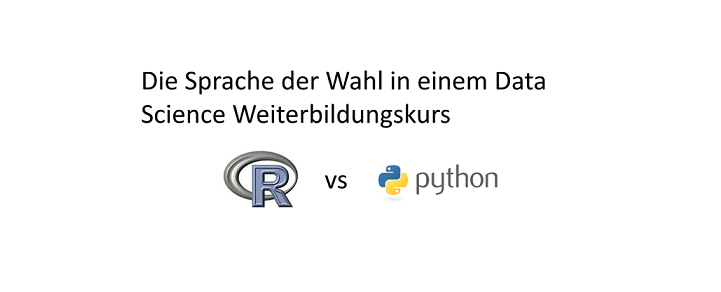 Die KDnuggets, ein einflussreicher Newletter zu Data Mining und inzwischen auch zu Data Science, überraschte kürzlich mit der Meldung "Python eats away at R: Top Software for Analytics, Data Science, Machine Learning in 2018. Trends and Analysis".[1] Grundlage war eine Befragung, an der mehr als 2300 KDNuggets Leser teilnahmen. Nach Bereinigung um die sogenannten "Lone Voters", gingen insgesamt 2052 Stimmen in die Auswertung ein.
Demnach stieg der Anteil der Python-Nutzer von 2017 bis 2018 um 11% auf 65%, während mit 48% weniger als die Hälfte der Befragungsteilnehmer noch R nannten. Gegenüber 2017 ging der Anteil von R um 14% zurück. Dies ist umso bemerkenswerter, als dass bei keinem der übrigen Top Tools eine Verminderung des Anteils gemessen wurde.
Wir verzichten an dieser Stelle darauf, die Befragungsergebnisse selbst in Frage zu stellen oder andere Daten herbeizuziehen. Stattdessen nehmen wir erst einmal die Zahlen wie sie sind und konzedieren einen gewissen Python Hype. Das Python Konjunktur hat, zeigt sich z.B. in der wachsenden Zahl von Buchtiteln zu Python und Data Science oder in einem Machine Learning Tutorial der Zeitschrift iX, das ebenfalls auf Python fußt. Damit stellt sich die Frage, ob ein Weiterbildungskurs zu Data Science noch guten Gewissens auf R als Erstsprache setzen kann.
Der Beantwortung dieser Frage seien zwei Bemerkungen vorangestellt:
Ob die eine Sprache "besser" als die andere ist, lässt sich nicht abschließend beantworten. Mit Blick auf die Teilarbeitsgebiete des Data Scientists, also Datenzugriff, Datenmanipulation und Transformation, statistische Analysen und visuelle Aufbereitung zeigt sich jedenfalls keine prinzipielle Überlegenheit der einen über die andere Sprache.
Beide Sprachen sind quicklebendig und werden bei insgesamt steigenden Nutzerzahlen dynamisch weiterentwickelt.
Das Beispiel der kürzlich gegründeten Ursa Labs[2] zeigt überdies, dass es zukünftig weniger darum gehen wird "Werkzeuge für eine einzelne Sprache zu bauen…" als darum "…portable Bibliotheken zu entwickeln, die in vielen Programmiersprachen verwendet werden können"[3].
Die zunehmende Anwendung von Python in den Bereichen Data Science und Machine Learning hängt auch damit zusammen, dass Python ursprünglich als Allzweck-Programmiersprache konzipiert wurde. Viele Entwickler und Ingenieure arbeiteten also bereits mit Python ohne dabei mit analytischen Anwendungen in Kontakt zu kommen. Wenn diese Gruppen gegenwärtig mehr und mehr in den Bereichen Datenanalyse, Statistik und Machine Learning aktiv werden, dann greifen sie naturgemäß zu einem bekannten Werkzeug, in diesem Fall zu einer bereits vorhandenen Python Implementation.
Auf der anderen Seite sind Marketingfachleute, Psychologen, Controller und andere Analytiker eher mit SPSS und Excel vertraut. In diesen Fällen kann die Wahl der Data Science Sprache freier erfolgen. Für R spricht dann zunächst einmal seine Kompaktheit. Obwohl inzwischen mehr als 10.000 Erweiterungspakete existieren, gibt es mit www.r-project.org immer noch eine zentrale Anlaufstelle, von der über einen einzigen Link der Download eines monolithischen Basispakets erreichbar ist.
Demgegenüber existieren für Python mit Python 2.7 und Python 3.x zwei nach wie vor aktive Entwicklungszweige. Fällt die Wahl z.B. auf Python 3.x, dann stehen mit Python3 und Ipython3 wiederum verschiedene Interpreter zur Auswahl. Schließlich gibt es noch Python Distributionen wie Anaconda. Anaconda selbst ist in zwei "Geschmacksrichtungen" (flavors) verfügbar als Miniconda und eben als Anaconda.
R war von Anfang an als statistische Programmiersprache konzipiert. Nach allen subjektiven Erfahrungen eignet es sich allein schon deshalb besser zur Erläuterung statistischer Methoden. Noch vor wenigen Jahren galt R als "schwierig" und Statistikern vorbehalten. In dem Maße, in dem wissenschaftlich fundierte Software Tools in den Geschäftsalltag vordringen wird klar, dass viele der zunächst als "schwierig" empfundenen Konzepte letztlich auf Rationalität und Arbeitsersparnis abzielen. Fehler, Bugs und Widersprüche finden sich in R so selbstverständlich wie in allen anderen Programmiersprachen. Bei der raschen Beseitigung dieser Schwächen kann R aber auf eine große und wache Gemeinschaft zurückgreifen.
Die Popularisierung von R erhielt durch die Gründung des R Consortiums zu Beginn des Jahres 2015 einen deutlichen Schub. Zu den Initiatoren dieser Interessengruppe gehörte auch Microsoft. Tatsächlich unterstützt Microsoft R auf vielfältige Weise unter anderem durch eine eigene Distribution unter der Bezeichnung "Microsoft R Open", die Möglichkeit R Code in SQL Anweisungen des SQL Servers absetzen zu können oder die (angekündigte) Weitergabe von in Power BI erzeugten R Visualisierungen an Excel.
Der Vergleich von R und Python in einem fiktiven Big Data Anwendungsszenario liefert kein Kriterium für die Auswahl der Unterrichtssprache in einem Weiterbildungskurs. Aussagen wie x ist "schneller", "performanter" oder "besser" als y sind nahezu inhaltsleer. In der Praxis werden geschäftskritische Big Data Anwendungen in einem Umfeld mit vielen unterschiedlichen Softwaresystemen abgewickelt und daher von vielen Parametern beeinflusst. Wo es um Höchstleistungen geht, tragen R und Python häufig gemeinsam zum Ergebnis bei.
Der Zertifikatskurs "Data Science" der AWW e. V. und der Technischen Hochschule Brandenburg war schon bisher nicht auf R beschränkt. Im ersten Modul geben wir z.B. auch eine Einführung in SQL und arbeiten mit ETL-Tools. Im gerade zu Ende gegangenen Kurs wurde Feature Engineering auf der Grundlage eines Python Lehrbuchs[4] behandelt und die Anweisungen in R übersetzt. In den kommenden Durchgängen werden wir dieses parallele Vorgehen verstärken und wann immer sinnvoll auch auf Lösungen in Python hinweisen.
Im Vertiefungsmodul "Machine Learning mit Python" schließlich ist Python die Sprache der Wahl. Damit tragen wir der Tatsache Rechnung, dass es zwar Sinn macht in die grundlegenden Konzepte mit einer Sprache einzuführen, in der Praxis aber Mehrsprachigkeit anzutreffen ist.
[1] https://www.kdnuggets.com/2018/05/poll-tools-analytics-data-science-machine-learning-results.html
[2] https://ursalabs.org/
[3] Statement auf der Ursa Labs Startseite, eigene Übersetzung.
[4] Sarkar, D et al. Practical Machine Learning with Python, S. 177ff.
http://datasciencehack.com/wp-content/uploads/2018/07/r-vs-python-data-science-weiterbildung-header.png
292
721
Dr. Peter Lauf
https://www.data-science-blog.com/wp-content/uploads/2016/09/data-science-blog-logo.png
Dr. Peter Lauf
2018-07-18 13:24:22
2018-07-18 13:43:43
R oder Python - Die Sprache der Wahl in einem Data Science Weiterbildungskurs