Von "information overload" bis "predictive analytics" – für Business Intelligence ist Big Data Fluch und Segen zugleich. Schnellere Rechner und höhere Speicherkapazitäten ermöglichen, immer mehr Daten zu sammeln. Aber wie werden sie im Sinne der Unternehmensziele effizient nutzbar? Artificial Intelligence (AI) ist derzeit die meistgenannte Antwort auf diese Frage und damit eines der zentralen Themen der TDWI München 2018.
Durch die intelligente Automatisierung von Prozessen ermöglicht AI die Datenmassen zu bändigen und sinnvoll zu nutzen. Auf der TDWI München wechseln Sie mit uns die BI-Fragestellung von "What happened?" zu "What will happen next?" und erfahren, wie Sie in Zukunft bessere Entscheidungen schneller treffen können.
Die TDWI München gibt einen vollständigen Überblick über
aktuelle Trends und Entwicklungen der nahen Zukunft
praktische AI Lösungen, die schon heute Realität sind
Ihre Digitalisierungsmöglichkeiten im Mittelstand
Verbesserungen in bestehenden Architekturen
Integration neuer Technologien (in bestehenden BI Umgebungen)
aktuelle Themen aus den Bereichen Analytics, Big Data, Deep Learning, Data Science, DWH Automatisierung, DSGVO, IoT…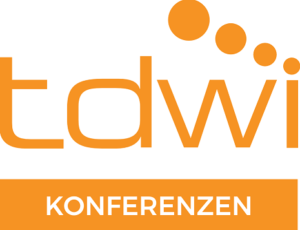 Die TDWI München ist seit vielen Jahren fester Bestandteil im Kalender von Data Scientists, Business- & Data-Analysten, BI-Projektleitern, Leitern BICC/ACC und Consultants. Die Konferenz ist die zentrale Wissensdrehscheibe und Netzwerkplattform in der DACH-Region.
Für mehr als 1.300 zufriedene Teilnehmer vom Neueinsteiger bis zum Profi ist die TDWI München die beste Möglichkeit für Networking und fachlichen Austausch mit Kollegen auf Augenhöhe. Aktive Pausen, Expo sowie Special Events und Abendveranstaltungen bieten Raum für Inspiration, neue Perspektiven und Lösungsansätze für Ihre aktuellen Herausforderungen.
Interaktive Sessions – machen Sie mit!
In interaktiven Workshops können Sie mit Experten und Kollegen Ihre aktuellen Herausforderungen diskutieren. Erweitern Sie hier Ihr persönliches Netzwerk und kommen Sie Ihren Lösungen ein Stück näher.
World Café Sessions: Kontrovers, provokativ und konstruktiv – wir diskutieren die heißen Themen der Branche.
Hands-on-Workshops: Einstieg in Deep Learning, Deep Learning from Scratch with R, Text Mining in R, Your First Data Science Project, Data Science Platform und Advanced Analytics mit Python und TensorFlow
TDWI Meinungsforum: Unsere Referenten laden Sie mit polarisierenden Thesen in zwangloser Atmosphäre zur Diskussion mit Ihren Peers ein.
Special Tracks & Themen
KI-Einsatz in der Industrie: Artificial Intelligence und das Internet of Things – in Kooperation mit Bitkom
Internet of Things/Industrie 4.0: Innovative BI-Lösungen in produzierenden Unternehmen – in Kooperation mit IIC German Regional Team
Branchentracks aus der Praxis: Was heute schon funktioniert – Anwenderberichte aus den Bereichen Handel, Automotive und Finanzen Schwerpunktthemen: Analytics (mit AI, Data Science u.v.m.), Architektur und Data Management
TDWI Young Guns Data Challenge
Die besten Talente kämpfen bei der TDWI Data Challenge um den Sieg. Im April erstellen Unternehmen Challenges auf Basis echter Projekte und Daten. Studierende und Young Professionals nehmen einzeln oder als Gruppe teil und können 4 Wochen ihre Challenge bearbeiten und zur TDWI München einreichen. Die jeweils 3 besten Einreichungen pro Challenge präsentieren ihre Ergebnisse am Dienstag vor einer Jury. Die Gewinner werden am Mittwoch prämiert.
Bitte melden Sie sich über folgenden Link zur Konferenz an: www.tdwi-konferenz.de
http://datasciencehack.com/wp-content/uploads/2018/05/tdwi-konferenz-muenchen-2018.png
289
789
Redaktion
https://www.data-science-blog.com/wp-content/uploads/2016/09/data-science-blog-logo.png
Redaktion
2018-05-11 07:59:55
2018-05-11 09:55:31
Business Intelligence meets Artificial Intelligence