Interview mit Herrn Dr. Florian Neukart, Principal Data Scientist der
Volkswagen Group of America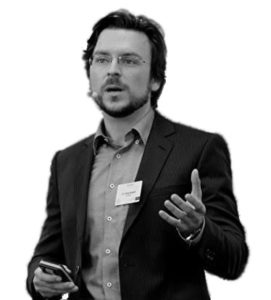 Herr Dr. Florian Neukart ist Principal Data Scientist der Volkswagen Group of America. Herr Neukart arbeitete nach seiner Promotion in der Informatik an der University of Brasov als Consultant für Business Analytics bei SAP und wechselte 2013 als Data Scientist zu Audi. 2015 übernahm er für mehr als ein Jahr die Funktion als Chief Technology Officer des Volkswagen Data Labs, bis er September 2016 zu Volkswagen in die USA wechselte. Darüber hinaus ist er bereits seit 2010 in der Forschung und Lehre für Quantum Computing, maschinelles Lernen und künstliche Intelligenz tätig und zudem Autor des Buches "Reverse Engineering the Mind – Consciously Acting Machines and Accelerated Evolution".
Data Science Blog: Herr Dr. Neukart, Sie sind einer der führenden Data Scientists in der Automobilbranche. Schlägt Ihr Herz mehr für die automobile Praxis oder für die Forschung?
Das kann ich so klar nicht trennen – ich habe das Glück, seit Jahren in beiden Welten tätig sein zu können, und was für mich dabei den besonderen Reiz ausmacht, ist die Möglichkeit, neuste Forschung in die Praxis zu überführen, also anhand von realen Problemstellungen zu verifizieren, ob eine Theorie praxistauglich ist oder nicht. Umgekehrt gilt das genauso – es kommt vor, dass ich mich mit Fragestellungen konfrontiert sehe, für welche die erforderliche analytische Mathematik noch nicht entwickelt wurde, was wieder zu neuer Forschung und innovativen Ideen anregt. Schon mein ganzes Leben bin ich getrieben von Neugierde und will verstehen, wie Dinge funktionieren, unabängig davon, ob es sich um die Gruppendynamik und Selbstorganisation von Herzzellen, quantenphysikalisches Verhalten von subatomaren Teilchen, autonom agierende Fahrzeuge, Fluktuationsprognosen in Märkten oder die Auswertung und Interpretation von Sprache handelt. Dabei ist es zwar primär die Mathematik, die mir hilft, Zusammenhänge zu verstehen und zu interpretieren, aber erst die Technologien und Plattformen, die über die letzten Jahre entwickelt wurden, um etwa rechenintensive Mathematik zu parallelisieren, Daten im Hauptspeicher zu halten und effizient abzufragen, machen unsere Arbeit erst möglich und richtig interessant.
http://datasciencehack.com/wp-content/uploads/2017/02/header-interview-volkswagen-of-america-data-science.png
360
960
Benjamin Aunkofer
https://www.data-science-blog.com/wp-content/uploads/2016/09/data-science-blog-logo.png
Benjamin Aunkofer
2017-02-27 15:19:50
2017-12-04 10:21:28
Interview - Data Science in der Automobilbranche