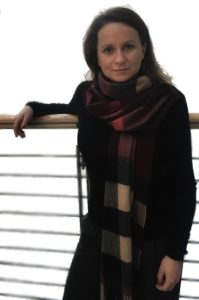 Frau Dr. Eva-Marie Müller-Stüler ist Associate Director in Decision Science der KPMG LLP in London. Sie absolvierte zur Diplom-Mathematikerin an der Technischen Universität München, mit einem einjährigen Auslandssemester in Tokyo, und promovierte an der Philipp Universität in Marburg.

Read this article in English:
"Interview – Using Decision Science to forecast customer behaviour"
Data Science Blog: Frau Dr. Müller-Stüler, welcher Weg hat Sie bis an die Analytics-Spitze der KPMG geführt?
Ich hatte schon immer viel Spaß an analytischen Fragestellungen, aber auch ein großes Interesse an Menschen und Finance. Die Frage wie Menschen ticken und Entscheidungen treffen finde ich unglaublich spannend. Im Mathematikstudium und auch bei der Doktorarbeit kamen dann das Auswerten von großen Datenmengen und das Programmieren von Algorithmen hinzu. Die solide mathematische Ausbildung kombiniert mit dem spezifischen Branchen- und Finanzverständnis ermöglicht es mir das Geschäftsmodell meiner Kunden zu verstehen und Methoden zu entwickeln, die den Markt verändern und neue Wege finden.
Data Science Blog: Welche Analysen führen Sie für Ihre Kundenaufträge durch? Welche Vorteile generieren Sie für Ihre Kunden?
Unser Team beschäftigt sich hauptsächlich mit Behaviour und Customer Science. Daher auch der Slogan "We understand human behaviour and we change it". Unser Focus ist der Mensch (z.B. Kunde oder der Mitarbeiter) und die Frage, wie wir ihn durch das Verständnis seiner Datenartefakte im Verhalten ändern bzw. zukünftiges Verhalten vorhersagen können. Auf dieser Basis entwickeln wir Always-on forecasting Modelle, die es dem Mandanten ermöglichen, bereits im Vorfeld zu agieren. Das kann z.B. bedeuten, durch ortgenaue Informationen spezifische Kundennachfrage an einem bestimmten Standort vorherzusagen, wie sie verbessert oder in die gewünschte Richtung beeinflusst werden kann oder durch welche Maßnahmen bzw. Promotions welcher Kundentyp optimal erreicht wird. Oder auch die Frage wo und mit welcher Produktmischung am besten ein neues Geschäft eröffnet werden soll, ist mit Predictive Analytics viel genauer vorherzusagen als durch herkömmliche Methoden.
http://datasciencehack.com/wp-content/uploads/2016/11/interview-kpmg-header-1-1.png
301
800
Benjamin Aunkofer
https://www.data-science-blog.com/wp-content/uploads/2016/09/data-science-blog-logo.png
Benjamin Aunkofer
2016-11-10 09:39:15
2017-12-04 10:23:06
Interview - Mit Data Science Kundenverhalten vorhersagen